Having recently taken — and more importantly stopped studying for — the Illinois bar exam, I finally found myself with time on my hands this weekend.  So I decided to put my new camera through its paces in the Everglades.  It was a thoroughly Floridian experience.
I had read Pine Glades Lake was a good spot to catch the sunset, so I found the correct unmarked turnoff from the main road, and a few bumpy minutes later pulled into a clearing next to the lake.  I had planned to scout out a good location before the sun really started to set, but decided to come up with a new plan when I noticed a pretty good sized gator lounging in the fading sunlight.  Evidently he wasn't thrilled to see me either, because he grumpily got in the water.  But after swimming about 25 yards away, he promptly turned around a swam right back towards me (still in my car).  He stopped right at the water's edge, and just lay there watching — except for the one time he appeared to bite at something, which, I think you'll agree, looked a bit menacing:
As a result, I decided to see if I could just maneuver my car into a decent spot, set up my tripod from relative safety, and shoot the sunset out my driver-side window.  Fortunately, he got bored of me and swam off before the oranges and reds really set in, and I was able to snap a shot of the setup I was glad not to have to use: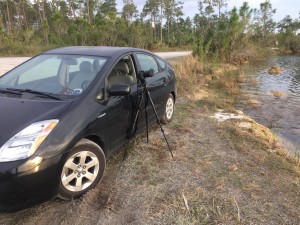 With the gator gone, I was able to walk up the shore a bit to a better spot, but I still kept an eye out for him.  I was concerned he might stay mad at me for taking his spot, but I must have been wrong because not only did he remain a safe distance away, he later decided to swim right across my shot at a decidedly opportune moment!  Thanks for a memorable evening, big guy.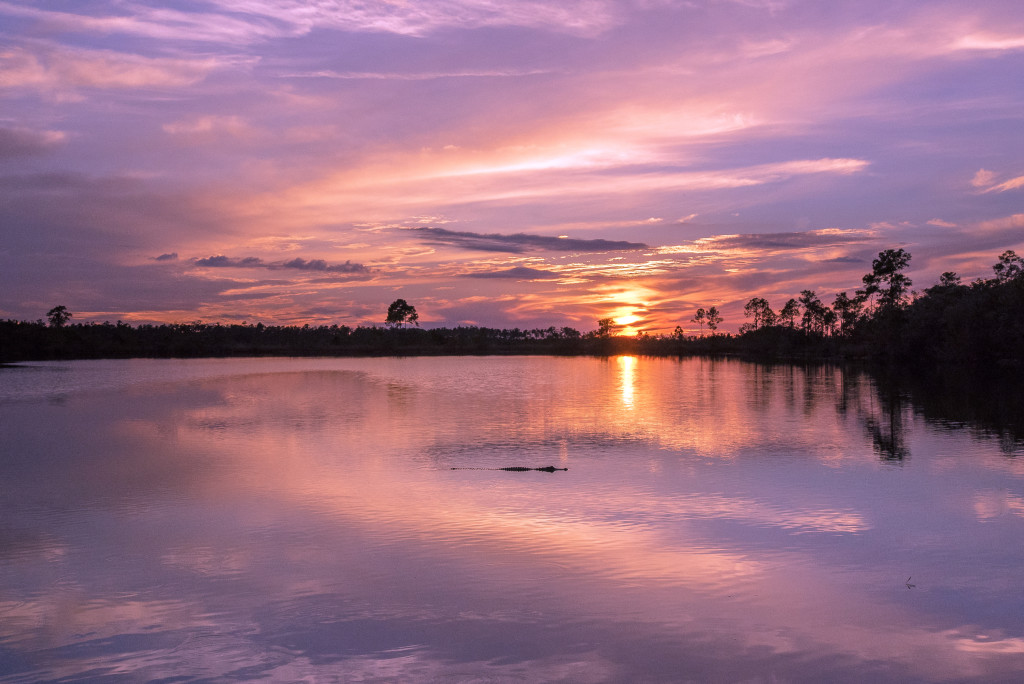 And then, as the colors faded to black, it began basically snowing mosquitos.  Still worth it, though.
See the rest of the sunset shots, as well as my run-in with a pair of barred owls and some iridescent insects here.
PS: This photo is something of an outtake, but I couldn't resist posting the time I was scOWLed at this weekend!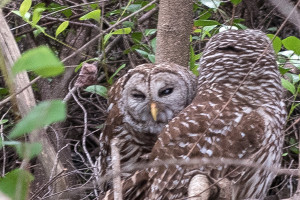 PPS: Another Florida moment I was not able to capture on film was when I heard a woman by the road shout at a passing biker.  As the biker rode off, the woman said to her friend, "Damn, I really wanted him to stop so I could take his picture!  He looked liked such a character."  Speaking of characters, the friend she said this to was holding a squirrel monkey.  Wearing a tiny diaper.  In a National Park.  As if this was the most normal thing in the world.  Florida is a special state.